Consultant Spotlight on...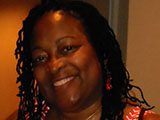 Ruby Nelson
Area of expertise: children exposed to violence, African-American victims in urban communities, juvenile/youth victims, and building resiliency.
Location: Maryland
Ruby B. Nelson, Ph.D., is the program manager of Community Services in Community Partnerships Administration for the D.C. Child and Family Services Agency, the public child welfare agency in Washington, D.C., responsible for protecting child victims, those at risk of abuse and neglect, and their families. As the manager, she is responsible for establishing policies and procedures to ensure the Community Services Unit operates smoothly. She provides supervision and consultation to staff and masters-level social workers, and coordinates and integrates staff activities to ensure clients and their families receive supportive services. Dr. Nelson is a trained and certified victim advocate who responds to the needs of victims and their families and delivers comprehensive services. She developed, implemented, and delivered outreach programs, seminars, and workshops about child sexual abuse to the community. Dr. Nelson worked in the inner city for more than 10 years with low income clients and families who are primarily African-American. She provided therapeutic services to children and adults to address issues such as trauma, substance abuse, academic achievement, and family violence. Dr. Nelson conducted forensic interviews with child victims of sexual abuse and advocated for families to identify resources to meet their needs. She participated in the OVC Building Resiliency in Child Abuse Organizations Training of Trainers. Once trained, Dr. Nelson implemented a system-wide resiliency program for the Community Partnership Administration. She also worked with inmates in the juvenile justice system and the Department of Corrections. Dr. Nelson is a licensed clinical social worker and received her Ph.D. in Social Work from the School of Social Work at Morgan State University. She earned an M.S.W. from the University of Maryland at Baltimore, an M.A. in Counseling from the University of the District of Columbia, and an Educational Specialist certification from Nova Southeastern University.