Consultant Spotlight on...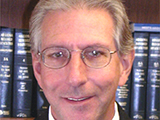 Ron Reinstein
Area of expertise: crime scene forensics/DNA evidence, enforcing crime victims' rights, courts, probation/parole, and domestic violence
Location: Arizona
Ron Reinstein retired from the Superior Court of Arizona in 2007 after 22 years on the bench. He is now a judicial consultant for the Arizona Supreme Court and director of the Center for Evidence-Based Sentencing. Judge Reinstein is also chair of the Supreme Court Commission on Victims in the Courts, the Supreme Court Capital Case Oversight Committee, and chair of the Arizona Forensic Science Advisory Committee. Prior to his appointment as a judge, he was a Deputy Maricopa County Attorney for 12 years, where he served as head of the Sex Crimes Division and supervisor of the Criminal Trial Unit. Judge Reinstein serves as a consultant to NIJ, NIC, OVC, NFSTC, and the Center for Effective Public Policy among others. He served as a presenter and faculty member of numerous judicial and legal education programs on subjects including DNA evidence, forensic sciences, sentencing issues, capital litigation, victims' rights, sex offender management, child sexual abuse, and trial advocacy. He is on the faculty of the National Judicial Education Program for Adult Victim Sexual Assault Cases. He is vice chair of the Legal Resource Committee of the Organization of Scientific Area Committees. He was a member of the National Commission on the Future of DNA Evidence, the Interagency Working Group of the White House Subcommittee on Forensic Science, the Arizona Supreme Court Capital Case Task Force, and the Attorney General's Victims' Rights Advisory Committee. His numerous awards and honors include recognition from the State Bar of Arizona, the Arizona Supreme Court, the U.S. Attorney General, the Maricopa County Bar Association, and Parents Of Murdered Children. He received bachelor of arts from Indiana University, a juris doctorate from Indiana University School of Law, and was inducted into the Indiana University School of Law's Academy of Law Alumni Fellows in 2002.