Consultant Spotlight on...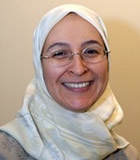 Salma Abugideiri
Area of expertise: Expert in domestic violence, cultural competency, clergy and faith communities
Location: Virginia
Salma Elkadi Abugideiri is co-Director of the Peaceful Families Project, an organization dedicated to educating Muslim community leaders and members about domestic violence. She provides educational workshops and develops resources related to domestic violence among Muslims, and provides training for clergy about domestic violence. She is a contributing author to several books including Counseling Muslims: Handbook of Mental Health Issues and Interventions; Walking Together: Working with Women from Diverse Religious Traditions; and Change from Within: Diverse Perspectives on Domestic Violence in Muslim Communities. She also has co-authored a brief guide for helping professionals entitled What Islam Says About Domestic Violence. In addition, she is associate producer of the video "Garments for One Another: Ending Domestic Violence in Muslim Families." Ms. Abugideiri is a member of the Interfaith Coalition Against Domestic Violence, a national effort with a focus on guiding policy and legislation that supports domestic violence survivors. For several years, she served on FaithTrust Institute's Leadership team, providing training to clergy and faith communities on issues related to domestic violence. She also is a certified FaithTrust Institute Trainer. Ms. Abugideiri is a licensed professional counselor in private practice in Reston, Virginia. She provides individual and family therapy for a wide range of problems, including mood disorders, anxiety disorders, trauma, abuse, and cultural adjustment issues. She has worked extensively with Middle Eastern and Muslim families for more than 15 years. She has a bachelor's degree in psychology from Indiana University, a master's degree in counseling and human development from George Mason University, and a post-master's certification in marriage and family therapy from Virginia Polytechnic Institute.