Consultant Spotlight on...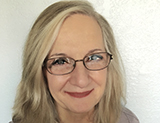 Susan Bragg
Area of expertise: DWI/DUI, crisis response, grief and trauma, grant management, strategic planning, and law enforcement training
Location: Texas
Susan Bragg has more than 35 years of experience as a victim advocate in the field of crime victimization. She has worked extensively with domestic violence victims and their families, and with drunk driving survivors and their loved ones in North Texas since 1980. Ms. Bragg specializes in law enforcement training (e.g., death notification, family violence, trauma, and victims' rights) and counseling special victim populations on catastrophic death or injury. As the grants coordinator for the Arlington, Texas, Police Department, Ms. Bragg is responsible for all areas of grant management, including planning, review and recommendation of funding announcements, writing, and submission for governmental, corporate, and private foundation grants. She has experience writing strategic plans, as well as specific goals and measurable objectives that complement those plans. As an adjunct professor, she taught classes in Criminal Justice and Psychology at a local university and community college. Early in her career, she worked in the juvenile courts in the Commonwealth of Virginia as a court services counselor, coordinating aftercare services to youth transitioning home from incarceration. The Texas Governor's Office, the Texas Attorney General's Office, and the MADD National Office have recognized her for exemplary victim programs (receiving the MADD President's Award twice for excellence in victim service delivery). Among her accomplishments, she created Lawyers Against Domestic Violence, an award-winning pro bono group of family attorneys who assist battered women with their legal needs. Ms. Bragg earned a master's degree in Psychology from Texas Woman's University and a bachelor's degree in Psychology from Christopher Newport University in Virginia. She is also a Certified Law Enforcement Planner from the International Association of Law Enforcement Planners.