Consultant Spotlight on...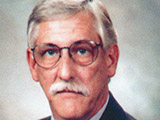 Steve Criss
Area of expertise: law enforcement, corrections, sexual violence, child abuse, computer / Internet / cybercrime, offender re-entry, and coordinated community response
Location: Florida
Steve Criss is a Senior Supervisor for the Florida Department of Corrections, Probation and Parole, in Lakeland, the largest probation office in Circuit 10. Previously, he managed an office that supervised sex offenders and GPS/Electronic Monitoring for a three-county area. Mr. Criss specialized in sex offender supervision for 20 years prior to moving into management. He has been a hostage negotiator with the Lakeland Police Department since 1996 and helped establish the Polk County Children's Advocacy Center. He is a national speaker and consultant for law enforcement, probation/parole, mental health and polygraph examiner groups, and civic groups on a total systems approach to offender supervision, victims' rights, and community safety. Mr. Criss served as chairman of a statewide workgroup that lobbied for the present sex offender conditions in the Florida statutes in 1995 and 1997, the Sexual Predator Act in 1993, and the Jessica Lunsford Act in 2005. He was Chairman of the Polk County Task Force on Sexual Abuse, a Designated Victim Advocate, and a member of the Florida Sex Crimes Investigators Association, Child Exploitation Computer Investigators Task Force, Hostage Negotiators Association of America, and the national public relations committee for the American Probation and Parole Association. For his efforts in the field of child abuse, Mr. Criss received the first Annual Advocate of the Year award in Florida from the Family Source of Florida. He also received the Probation Officer of the Year award from the Southern Correctional States Association. Mr. Criss is a retired Special Agent with the Criminal Investigation Division of the U.S. Army (Reserves) where he worked on sexual abuse cases. His special areas of study include FBI profiling of sex offenders, Florida Department of Law Enforcement (FDLE) sex offender training, crimes against children, victim services, crisis negotiations, ritualistic child abuse, polygraph testing of sex offenders, victim advocacy, and computer forensics. He is pursuing a graduate degree in criminal justice.