Consultant Spotlight on...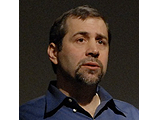 Scott Fearing
Area of expertise: Cultural Competency, Hate/Bias Crimes, Bullying, Campus Crime, worked with Deaf Communities, LGBTQ, and Rural Communities
Location: New York
Scott M. Fearing is the Program Director for the Gay Alliance, one of the Nation's oldest LGBT service organizations. In this consulting work, he has provided consultation and training to more than 1,000 public and private sector organizations. His area of specialization is addressing specific diversity topics, including sexual orientation, gender identity, and gender expression. Mr. Fearing has worked as a community organizer, traveling throughout rural Minnesota meeting with members of the gay, lesbian, bisexual, transgender (LGBT), and allied communities, encouraging grassroots activism and involvement. He has met with schools, law enforcement, hospitals, and political leaders as a representative of the communities he serves. In 2006, he moved to Rochester, New York, when his partner enrolled at the National Technical Institute for the Deaf. Mr. Fearing is a graduate of St. Cloud State University with a program focus on intercultural communications and adult education.