Consultant Spotlight on...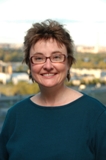 Stephanie Frogge
Area of expertise: Expert in victim assistance and trauma issues
Location: Texas
Stephanie Frogge is assistant director for the Institute for Restorative Justice & Restorative Dialogue at The University of Texas at Austin, School of Social Work. She also serves as a professional crime victim services consultant working with programs that assist victims of crime and address social justice issues. Ms. Frogge has more than 25 years of experience in the area of trauma response, victim services administration, and victim assistance and activism, and writing and speaking extensively on victim assistance and trauma issues. She is the former national director of Victim Services at Mothers Against Drunk Driving's national office overseeing MADD's internationally recognized victim services programs. While with MADD, she helped develop their death notification curricula and the first training program for clergy and funeral directors who work with homicide survivors. She was also editor and primary author for MADDVOCATE magazine. She served 2 years as the director of Peer Support Services for TAPS - Tragedy Assistance Program for Survivors, a Washington, D.C.-based national organization that provides peer support for those whose loved ones have died while serving in the military. Ms. Frogge has presented hundreds of workshops, lectures, and keynote presentations around the United States, most recently at the national gathering for Bereaved Parents of the USA. Ms. Frogge has been involved for a number of years with State and National Victim Assistance Academies funded by OVC. Her roles have included faculty, site coordinator, and curriculum developer. Recently, she served as faculty for OVC's Leadership Institute. In addition to serving as an adjunct lecturer in UT's School of Social Work, she is a lecturer in the College of Criminal Justice at Sam Houston State University in Huntsville, Texas, where she has taught courses on juvenile delinquency and juvenile justice, victimology, victim services delivery, domestic violence, and criminology. She participated in the development of the University's degree program in victim studies ' the only one of its kind in the United States. She also assisted with the development of the National Institute for Victim Studies, the first-ever collaboration between a national victims' rights organization and an academic institution, to study and promote victim-related issues and scholarship. Ms. Frogge serves on the boards of the American Society of Victimology and the Texas Victim Services Association. Current projects include restorative justice issues in capital cases, particularly Defense-Initiated Victim Outreach (DIVO), as well as the nexus between after-death communication and survivor coping following the death of a loved one. She is also working on a manual entitled Careers in Crime Victim Services. Ms. Frogge holds a bachelor's degree in criminal justice from Texas Christian University and a master's degree in theological studies from Brite Divinity School.