Consultant Spotlight on...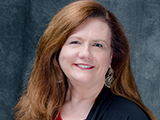 Sheree Hukill
Area of expertise: American Indian/Alaska Native (AI/AN) victims, including child and youth victims of sexual violence, legal consultation and services, and community planning.
Location: Oklahoma
Sheree L. Hukill is a professional educator whose experience spans more than 30 years in the fields of business, education, and law. She co-founded and leads a consulting firm, Integrated Concepts, Inc., and a law firm, P&S Legal Advocacy, PLLC. Integrated Concepts has served as management/evaluation professionals for Office on Violence Against Women (OVW) Rural Domestic Violence Awareness; CTAS Tribal Justice System Strategic Planning; Department of Education, Office of Indian Education, Native Youth Community Projects; and Department of Justice Building Refuge for Immigration Detainees through Governance and Engagement (BRIDGE) Project grants. Under Ms. Hukill's leadership, P&S Legal Advocacy attorneys strive to restore clients to a state of undiminished condition while adhering to sound moral and ethical principles. Both companies investigate the client's situation and carefully calculate methods to obtain the most tangible, beneficial outcomes. Ms. Hukill also served as executive director, supervising attorney, and co-founder of a statewide, tribal domestic violence coalition; grant-writer for numerous Indian tribes and civil service organizations (nonprofits); court-appointed counsel for women and children in juvenile deprived actions; public defender and prosecutor for several Indian tribes; national speaker on domestic violence/sexual assault training issues and a contract peer reviewer for OVW. Additionally, Ms. Hukill served as the executive director for five federally funded educational grants hosted by an Oklahoma regional university, and as business and information processing instructor for vocational-technical schools, junior colleges, and public high schools. Ms. Hukill's diverse background includes grant writing, fund development for and formation of not-for-profits, budget formulation and administration, contract management, and program development and management. Ms. Hukill is a graduate of the University of Tulsa College of Law with a juris doctorate and certification in Native American Law and Alternative Dispute Resolution. She has an M.S. in Business Education and a B.S. in Business Administration from Oklahoma State University.