Consultant Spotlight on...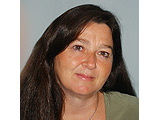 Terri Spahr Nelson
Area of expertise: sexual violence, military sexual assault/sexual trauma, crisis response, and working with military personnel and family
Location: Ohio
Terri Spahr Nelson is a psychotherapist, consultant, educator, and author with more than 30 years of experience working in mental health and behavioral sciences and specializing in victims of violence and trauma. She is a military veteran, twice awarded the Army Commendation Medal. She also is a national consultant and trainer on sexual trauma, military sexual trauma, and vicarious trauma. In addition, Ms. Spahr Nelson was a subject matter expert for the Department of Defense on the development of their Sexual Assault Prevention and Response Program; chair of the military subcommittee of the National Task Force To End Domestic and Sexual Violence; and consultant to the National Agenda on Violence Against Women (Violence Against Women in the Military). She is the author of several publications, including a book titled "For Love of Country: Confronting Rape and Sexual Harassment in the U.S. Military" and the nationally-distributed booklets "Coping With Sexual Assault: A Guide to Resolution, Healing and Recovery," printed in English, Spanish, Braille, and large print, with versions for college students, military victims, veterans, teens, and professionals. Her recent publications include a booklet for crime victims, "Coping After a Violent Crime," and another booklet, "Coping With Vicarious Trauma for Professionals and Volunteers Working With Crime Victims."