Consultant Spotlight on...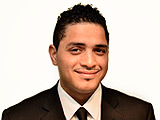 William Kellibrew IV
Area of expertise: victim/survivor of crime, juvenile/youth victims, children exposed to violence, poly-victimization, domestic violence
Location: District of Columbia
William Kellibrew IV is an international motivational speaker on civil, human, women's, children's, and victims' rights. He is the Vice President for Strategic Partnerships at Mauldin Brand Agency based in Atlanta. At age 6, he was violently raped by his mother's neighbor and at age 10, he watched helplessly as his mother and 12-year-old brother were shot in their living room by his mother's ex-boyfriend. The killer committed suicide, but not before he had young William beg for his life at gunpoint. The next day, he witnessed his grandfather shoot the next door neighbor. Witnessing two shootings in 2 days traumatized him for years; at age 13, he attempted suicide and was hospitalized several times for clinical depression. He spent most of his teenage years running away, homeless, and wandering the streets. After 20 years of rebuilding his life, Mr. Kellibrew currently consults for the Substance Abuse and Mental Health Services Administration, the National Center for Trauma-Informed Care, the National Association of State Mental Health Program Directors, and the Office for Victims of Crime. In 2010, he was the keynote speaker for the National Crime Victims' Rights Week Candlelight Observance. In 2011, he was recognized for his work to end domestic violence in the Washington, D.C. community by the White House for the 'Champions for Change' initiative. Mr. Kellibrew shared his story on the Oprah Winfrey Show with Dr. William Cosby and Dr. Alvin Poussaint. Mr. Kellibrew has been featured on MSNBC, CNN's In Session, CNN HLN's Newsmakers with Robert Traynum, BBC Worldwide, Washington Post, and other news media outlets and publications throughout the world.