National Victim Assistance Academy (NVAA)
OVC's National Victim Assistance Academy: From Onsite to Online and Blended Learning Delivery
The mission of the National Victim Assistance Academy (NVAA) has always been to provide an intensive, interactive learning experience to develop and promote professional skills and knowledge for victim service providers. While the mission remains unchanged, we have redesigned our content and updated our delivery methods to provide more comprehensive skills and content to a wider audience. NVAA's blended learning approach includes a combination of highly interactive self-paced training and collaborative, facilitated Webinars. Through this blended delivery approach, we will expand our reach within the field, providing more victim service providers with the knowledge and skills they need to better serve victims of crime.
The following NVAA trainings will be available as Web-based facilitated or blended learning trainings, free of charge, and led by national subject matter experts. CEUs are awarded to participants for full participation.
Leadership Institute
The Leadership Institute is designed for victim service administrators and leaders who wish to enhance their leadership skills and abilities. Participants will learn theoretical concepts and practical skills to more effectively lead their organization, team, or work group.
Advanced Skills Institutes
The Advanced Skills Institutes are designed to build skills and address timely topics that confront victim service providers on a daily basis and that have direct impact on service providers' work with victims. The training is targeted for those who have been in the victim services field for at least 2 years.
Advanced Trainer Institute: Delivering Face-to-Face Training
The goal of this Institute is to train professionals in victim services to enhance their presentation and facilitation skills. A blended format allows participants to receive training and facilitation instructions online as well as provides an opportunity to practice those skills and receive feedback onsite.
Advanced Trainer Institute: Delivering Online Training
The goal of this Institute is to train professionals in victim services to enhance their presentation and facilitation skills to use in an online environment. This training will be delivered online.
We are committed to continually improving and broadening these critical training resources to be easily accessible to all victim service providers. Sign up so we can keep you informed as we make additional changes and add new trainings.
Previously delivered NVAA Foundation-Level Training Curriculum is still available as a resource.

"This training has truly been an eye opening opportunity for me and has given me a lot of new skill sets to work on and enhance. Before this training, I had had no formal training on leadership and really came into this class with high expectations of being able to exit this program with new skills; these expectations were met and exceeded."
–Participant, Spring 2014 NVAA Leadership Institute
"…this is probably the most beneficial professional development course I have taken, and it was free and online!"
–Participant, Spring 2014 NVAA Leadership Institute
VAT Online replaces NVAA Track 1. NVAA Track 1, Foundation-Level Training, was a 5-day general training for those with less than 3 years of experience serving victims of crime. VAT Online is a Web-based, self-paced training, also funded by OVC, that has been revised and updated. Both VAT Online and the NVAA Track 1 training were developed for the same audience: victim service providers with less than 3 years of experience. In the revision process, the content included in Track 1 has been incorporated in VAT Online. Basics and Core Competencies and Skills are now covered in 21 VAT Online modules, which each take 30–90 minutes to complete. These modules are now available. Visit the VAT Online page for more information.
"This training has encouraged me to think differently, more holistically…like a leader! It's challenged me and opened my eyes to things I didn't even realize I had neglected. I've become more mindful of my employees and their needs and also my reaction to others. I've learned about conflict resolution, emotional intelligence, so many great things to help me become a better professional!"
–Participant, Spring 2014 NVAA Leadership Institute
We currently have not scheduled the next Leadership Institute for all victim service providers. To sign up to receive e-mail notifications about NVAA from OVC TTAC, visit Get E-mail Updates.
No tuition fees. Nationally recognized subject matter experts. CEUs awarded for full participation.
The NVAA Leadership Institute provides skills and knowledge for new and seasoned victim services leaders who provide or have provided direct services to victims to build capacity within victim-serving agencies. The training uses a blended learning approach with a combination of self-paced online training and facilitated Webinars. Participants should expect to dedicate approximately 1 hour completing assignments before the training begins and between each session.
The NVAA Leadership Institute is conducted by two nationally recognized experts in the victim services field. Each Webinar session lasts 75 minutes. Sessions run for 10 consecutive weeks. See information about each session.
Each session is designed to maximize interaction between participants and instructors. All Webinars will be recorded, so if you are unable to meet online for a live Webinar you can listen to the recording. Since each session builds upon prior sessions, it is important that you listen to the recording of each Webinar before the next Webinar takes place.
NVAA Leadership Institute Training Requirements
When you complete all components of this training, you will receive a Certificate of Completion and CEUs. See training requirements.
NVAA Leadership Institute Application Process
Applications will be considered on a first-come, first-served basis until the Institute reaches capacity.
You will receive 3 e-mails from OVC TTAC about your application.
"More than anything, this training has changed my perspective on the importance of communication--not just as a leadership skill, but also as a behavior. It motivated me to be more self-aware of my communication style and how it influences others' perception of me, and to notice other people's communication styles and adapt accordingly. Finally, it motivated me to …develop communication skills and cultivate behaviors that enhance my rapport with my colleagues and subgrantees. …I have changed my tone, approach and attitude about professional communication, and I've found that not only has it helped me to build relationships but also has increased my effectiveness and productivity."
–Participant, Spring 2014 NVAA Leadership Institute

.
"This training came at the perfect time in my career. We are undergoing a large transition in our unit, and my first thought was that this training could help me deal with the change in a more positive way. Over the weeks, I have been motivated to take the concepts learned each week and apply them to my every day challenges. As we built upon different skills each week, I started to use these skills in practical situations here at work to help test my skills when in a real life setting. Each week, my focus was on not just coping with the changes but also having a more positive attitude towards the change by using new skills I learned from this class."
–Participant, Spring 2014 NVAA Leadership Institute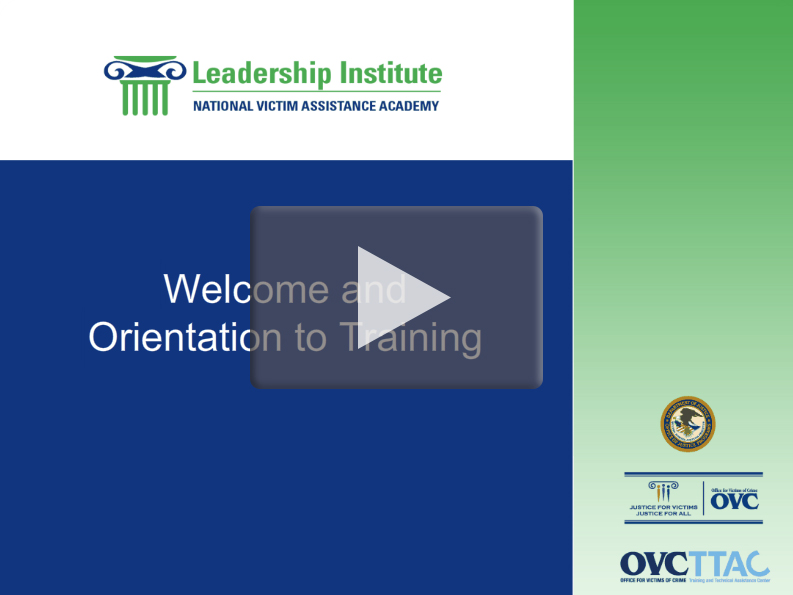 Watch this quick video to learn why you should take the Leadership Institute and what is covered in the training.