OVC Director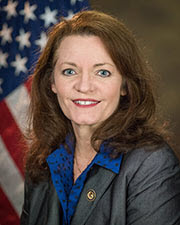 Darlene Hutchinson Biehl
OVC Director
Darlene Hutchinson Biehl is the Director of the Office for Victims of Crime (OVC), where she oversees its programs and services to help victims in the aftermath of crime and to provide continued support to them as they rebuild their lives. As Director of OVC, Ms. Hutchinson currently oversees the administration of more than $9 billion in grants and other projects, which includes a Fiscal Year 2018 budget of nearly $4.5 billion – the largest in OVC history. During her tenure, OVC has experienced a tremendous expansion of services for victims of human trafficking and those in tribal communities across the country.
Appointed by President Donald Trump, Ms. Hutchinson was officially sworn into office in August 2017. With more than 20 years of experience in victim advocacy, Ms. Hutchinson has had an active role passing legislation, advancing public policy, teaching at police academies, and working directly with victims and their families – following all types of crime.
Prior to joining OVC, Ms. Hutchinson honed her expertise as a victim advocate by volunteering for 10 years at rape crisis centers in Alabama and Texas and served for 7 years as president of a victims' support and advocacy group in Central Alabama. Simultaneously, Ms. Hutchinson worked in publishing, including 8 years as editor of law enforcement publications in Alabama, Washington, D.C., and Texas. She also spent nearly 6 years as the Communications and Media Director for the Dallas Bar Association.
Ms. Hutchinson played a key role in the development of Alabama's innovative victim notification system, and was part of the small team responsible for the passage and ratification of Alabama's Victims' Constitutional Amendment in 1994–95. She has received numerous awards for her dedication to empowering survivors and protecting their rights while enhancing public safety.
It's been a 30-year journey, as Ms. Hutchinson first became aware of the inadequacies of the justice system and the needs of crime victims after being kidnapped at gunpoint from a small-town post office when she was 20 years old. Blindfolded and tied, Ms. Hutchinson escaped on the second day, by the grace of God, and assisted in the apprehension and prosecution of the offender. Following a plea, he served 20 years in prison for kidnapping and rape.
Through her own experience, Ms. Hutchinson became inspired to help other survivors navigate the complex criminal justice system and rebuild their lives, while she's also been a champion for victims' rights. She has accompanied hundreds of survivors and families to parole hearings and/or trials, and the policies and laws she's helped put in place will benefit thousands for years to come.
A native of St. Petersburg, Fla., Ms. Hutchinson holds a B.S. in Journalism from Troy State University in Troy, Ala.