To support victim service agencies and allied professionals during these challenging times, OVC TTAC is temporarily accepting applications submitted 60 days prior to your desired start date.
Due to COVID-19, and per guidance from the Department of Justice and the Office for Victims of Crime, OVC TTAC is not supporting travel for in-person training and technical assistance events at this time. We will continue to process requests for virtual training and technical assistance.

Prior to applying for assistance, please call 1–866–682–8822 and ask to speak with an OVC TTAC Training and Technical Assistance (TTA) specialist.
Eligibility & Criteria
Before you apply for a training in your community, please review the following information to make sure that your request will meet the general and training-specific eligibility requirements.
General Eligibility Requirements
The organization applying for assistance is an established public or private nonprofit organization with an existing track record of providing services to victims of crime.
The assistance will expand the capacity of the organization to effectively address the needs of victims in the community or geographic region that it serves.
The requested assistance is not provided by another federal organization, including via an ongoing or recent grant.
The requested assistance falls within the mission and funding priorities identified by OVC.
The organization applying for assistance will contribute resources or funds toward the delivery of the requested assistance.
Training-Specific Eligibility Requirements
Guarantee a minimum number of participants

to attend the training. Participants may be from your agency and/or from a coalition of local or regional agencies. The minimum and maximum numbers may vary by training, but average from a minimum of 30 to a maximum of 40 participants. OVC TTAC can provide guidance on optimum numbers for each training topic.

Coordinate local marketing

and send invitations and/or marketing materials that include the requirements for successful completion of the training.

Provide a complete participant contact list

and submit it to OVC TTAC 3 weeks prior to the training.

Secure an appropriate training facility

that meets OVC TTAC facility requirements (criteria will be provided) at no cost to OVC TTAC. You will be asked to submit facility photos in lieu of a site visit by OVC TTAC and secure a backup facility in the event of an emergency that precludes the use of the original facility. The training facility should be within close proximity to reasonably priced restaurants if the requester is not providing a free or participant-paid lunch.

Provide audio-visual equipment and Internet connection

at no cost to OVC TTAC. Audiovisual equipment includes a laptop with MS Office 2007 Word and PowerPoint, an LCD projector and screen, external speakers so that video clips will be audible, flipcharts, easels, and markers.

Provide on-site copying services

in order for the onsite coordinator to make any necessary copies for CEU purposes.

Identify a suitable hotel near the training facility

for housing the OVC TTAC instructors, an onsite coordinator, and training participants who may need overnight accommodations at the prevailing government rate. OVC TTAC will cover lodging fees for instructors and the onsite coordinator. You will need to inform your participants from out-of-town of the recommended hotel so they can make reservations.

Provide information about ground transportation

options to and from the training facility if not at a local hotel.

Confirm the minimum number of participants 3 weeks prior to the start date

of the training. In the event that OVC TTAC must cancel instructors due to low registration, you will be ineligible to apply for training for 24 months.
It is to your benefit to work with your local/regional victim service providers, allied professionals, State Victim Assistance Academy leaders, and VOCA administrators to ensure that you make the most of your opportunity by requesting a training that is truly needed in your area, and that has the greatest chance of attracting the required number of participants.
Please note: OVC TTAC is federally prohibited from providing technical assistance that may be used to participate in, support, or advocate for the legalization or practice of prostitution.
What is capacity building?
Capacity building refers to the process of identifying the internal and external barriers that inhibit victim services organizations, allied professionals, or individual providers from delivering effective services to all crime victims, and building on existing strengths, enhancing skills, and providing new tools to overcome those barriers. TTA specialists will conduct a thorough needs assessment to maximize the use of OVC's resources to build capacity.
Let Others Know About This Training
Got Questions?
Phone: 1–866–OVC–TTAC
(1–866–682–8822)
TTY: 1–866–682–8880
Email: ttac@ovcttac.org
Activity Map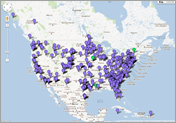 Want to know where the world is tapping into OVC's TTA resources? Use the activity map.