About Us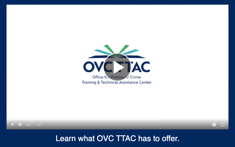 OVC TTAC is the gateway to current training and technical assistance for victim service providers and allied professionals who serve crime victims. Our aim is building the capacity of victim assistance organizations across the country in three primary ways:
Through a variety of training and technical assistance opportunities, OVC TTAC can support your professional development, enhance services to the community, and reach underserved victims of crime.
We use a variety of tools–surveys, stakeholder discussions, evaluations, and feedback forms–to assess the needs of key constituencies and identify resources to meet those needs.
We continually monitor customer satisfaction and measure the effectiveness of our training and technical assistance activities over time. Evaluation gives OVC data that informs the development of future training and technical assistance and provides the assurance that OVC TTAC remains state-of-the-art.
OVC TTAC draws on the expertise of a network of consultants and seasoned victim service professionals with first-hand experience in designing and delivering customized responses to satisfy a variety of training and technical assistance needs.
From this comprehensive database of experts, we can provide developmental support, mentoring, and facilitation to assist you in your program design and implementation, strategic planning, program management, evaluation, quality improvement, collaboration, and community coordination.
To improve your capacity to serve crime victims in your community, here are some ways OVC TTAC might work with you:
Provide skilled trainers with specific subject matter expertise for your upcoming training event or speakers for your conference to help raise public awareness about crime victim issues.
Conduct an organizational needs assessment and design a targeted response through training, technical assistance, or peer support.
Develop a basic evaluation strategy for determining your program's effectiveness, tracking performance, and measuring successful client outcomes. You may also find the online Strategic Planning Toolkit and program management resources useful for organizational management.
Strengthen advocacy programming that helps assure equal justice for victims and produces a positive, sustainable impact.
Read more (PDF, 341 KB) about the tools and resources offered through OVC TTAC.
OVC TTAC is operated by ICF incorporated, L.L.C. under the Office of Justice Programs/Office for Victims of Crime Victim Services Training and Technical Assistance Center (VSTTA) contract GS00F010CA/15PVCD23F00000007 and Technical Assistance Collective (TAC) contract GS00F010CA/15PVCD23F00000008.
ICF does not discriminate in employment opportunities or practices on the basis of race, color, creed, religion, sex, ancestry, age, physical and mental disability (as defined in accordance with the Americans with Disabilities Act of 1990 and the Rehabilitation Act of 1973, as amended), medical condition, marital status, citizenship status, national origin (or citizenship where it has the purpose or effect of discriminating on the basis of national origin), covered veteran's or military status, sexual orientation, gender identity, participation in a protected activity (as defined in Section 2000e-3(a) of Title VII of the Civil Rights Act of 1964), or any other characteristic protected by federal, state, or local law.
OVC Director
Led by Director Kristina Rose, OVC is committed to enhancing the Nation's capacity to assist crime victims and to providing leadership in changing attitudes, policies, and practices to promote justice and healing for all victims of crime.