Current Session
You have questions. We have answers.
Here's what's coming up in our Expert Q&A series.
Topic: Considering a Facility Dog for Your Victim Service Program?
Date: June 29, 2022; 2:00–3:15 p.m. ET
Description: Given the positive effects on survivors, many victim service providers have added or are considering adding a professionally trained facility dog to their programs. During this session, experts will provide practical information about how you can incorporate a courthouse facility dog into your Child Advocacy Center, District Attorney's Office, Family Courts, Tribal Courts, or other direct victim service programs. Learn how these highly trained facility dogs can work alongside victim service and law enforcement professionals to provide emotional support and positive interactions with children and other survivors. Discover the training required to become a facility dog handler and find accredited assistance dog organizations through Assistance Dogs International.
Note: This session will be recorded and posted on the Expert Q&A Past Sessions page when available.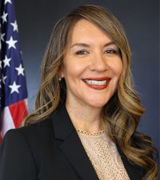 Ms. Flerida Alarcón is the Bureau of Victim Services chief for the San Bernardino County District Attorney's Office, where she has worked for the last 24 years. She is also a current board member of the California Crime Victims Assistance Association.
As chief, she has implemented several innovative programs to help assist the county's crime victims, including the county's first Special Victims K-9 Unit to support child victims of crime throughout the criminal justice process and aid victims of mass violence. In addition to her role as victim services chief, Ms. Alarcón is a statewide resource in assisting communities that experience critical incidents of mass violence, all of which derived from the terrorist attack that occurred in San Bernardino, California, on December 2, 2015.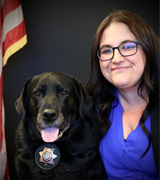 Yesica Cioli is a victim advocate for the San Bernardino County District Attorney's Office. She has been working with the San Bernardino District Attorney's Office for 8 years and has been the primary handler for K9 Dozer for the past 7 years. Ms. Cioli was at the forefront of implementing what is now an essential and successful K9 Unit for San Bernardino County. Their primary caseload consists of crimes against children; however, their partnership allows them to work with child and adult victims of domestic violence, sexual assault, human trafficking, and homicide. Ms. Cioli and K9 Dozer are part of the Crisis Response Team and have responded to three critical incidents in the past 7 years. She graduated with a B.A. in Criminal Justice from the California State University, San Bernardino.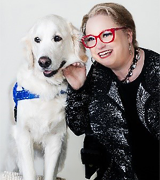 Marcie Davis is a victim assistance and disability advocate and trainer who helps social service leaders create and implement transformational solutions through program development and management, training, technical writing, grant writing, marketing and outreach, and research and evaluation services. With more than 30 years of experience, she works with local, state, Tribal, and federal governments and NGOs, including as the chief of victim services and VOCA grants management for the Florida Attorney General's Office, to create and implement innovative ideas and approaches. Her passion is helping nonprofit organizations secure and manage the funding necessary to create and implement accessible and culturally appropriate support services to individuals with disabilities, people with opioid and other substance use disorders, seniors, Native Americans, and other underrepresented populations. She created the first victim services office in the New Mexico Attorney General's Office.
Ms. Davis currently serves as chief executive officer of Davis Innovations, a research and organizational development consulting firm focusing on outreach to underserved populations and leadership development; a project director for the New Mexico Coalition of Sexual Assault Programs, mentoring rural and frontier sexual assault programs and leading statewide efforts to support survivors with disabilities and seniors; and the founder of Soulful Presence, a nonprofit organization seeking to empower underserved populations by creating awareness through policy, research, education, and social action. She served as a co-instructor for several National Victim Assistance Academy series trainings: Sustainability Planning, Board Development, and the Leadership Institute. Ms. Davis has a bachelor's degree in Paralegal Studies and a master's degree in Library Science from the University of Southern Mississippi. Ms. Davis established International Assistance Dog Week, which is celebrated in more than 40 countries. She is accompanied by her service dog, Fenway.
Stay in Touch
Want to be the first to hear about new sessions? Subscribe to the Expert Q&A email list for the latest announcements.