Current Session
You have questions. We have answers.
Here's what's coming up in our Expert Q&A series.
Topic: Clergy Response to Domestic Violence Survivors: How To Engage and Train Faith Leaders
Date: May 31, 2023; 2:00–3:15 p.m. ET
Description: According to the Centers for Disease Control and Prevention, intimate partner violence (IPV) is a serious public health problem that can have a profound impact on lifelong health, opportunity, and well-being. Immigrant women report higher rates of domestic violence and less access to services. Language barriers and cultural taboos can make it more difficult for those seeking help to find it; therefore, many immigrant survivors turn to faith leaders for help. This session will provide an overview of the current state of faith leaders' practices regarding domestic violence and discuss faith leaders' role in the primary, secondary, and tertiary prevention of IPV. In addition, participants will learn how to engage and collaborate with faith leaders for domestic violence prevention and intervention.
Note: This session will be recorded and posted on the Expert Q&A Past Sessions page when available.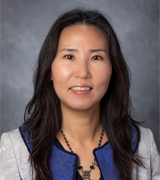 Y. Joon Choi, Ph.D., M.S.W., M.A., is a professor and director of the School of Social Work at the Andrew Young School of Policy Studies at Georgia State University. Her scholarship focuses on IPV, substance abuse, and health disparities among immigrant and minority populations, especially developing, implementing, and evaluating socio-culturally appropriate community intervention/prevention strategies.
Dr. Choi received significant research grants and contracts from the U.S. Department of Justice Office on Violence Against Women, U.S. Department of Health and Human Services, and nonprofit agencies. Her research is published in leading journals such as the Journal of Interpersonal Violence, Aggression, and Violent Behavior, Journal of Substance Abuse Treatment, Journal of Family Violence, Journal of American College Health, and Journal of Racial and Ethnic Health Disparities.
Formerly a faculty member at the University of Georgia School of Social Work, she served as the interim associate dean for Academic and Faculty Affairs (2021–2022) and the director of the Ph.D. Program (2017–2021), and received the Ph.D. Program Teacher of the Year Award in 2018, 2019, and 2021. She also serves as a commissioner on the Georgia Commission on Family Violence and is core faculty at the Injury Prevention Research Center at Emory.
Stay in Touch
Want to be the first to hear about new sessions? Subscribe to the Expert Q&A email list for the latest announcements.