To support victim service agencies and allied professionals during these challenging times, OVC TTAC is temporarily accepting applications submitted 60 days prior to your desired start date.
Due to COVID-19, and per guidance from the Department of Justice and the Office for Victims of Crime, OVC TTAC is not supporting travel for in-person training and technical assistance events at this time. We will continue to process requests for virtual training and technical assistance.

Prior to applying for assistance, please call 1–866–682–8822 and ask to speak with an OVC TTAC Training and Technical Assistance (TTA) specialist.
Frequently Asked Questions
Who is eligible to request technical assistance?
These FAQs provide answers to commonly asked questions about completing the request form, consultant information, funding decisions, and organizational responsibilities if the application for funding is approved.
What is OVC TTAC's role in relation to OVC?
OVC TTAC delivers and supports training and technical assistance for the victim services field on behalf of the Office for Victims of Crime.
If my organization already received OVC funding for training and technical assistance within the last 12 months, can I apply again?
Yes. You are able to apply for capacity building assistance if your organization successfully implemented the previous assistance. Please note, OVC's resources are limited, and OVC may not be able to support technical assistance requests that do not build capacity more than once per year.
I am an OVC discretionary grantee, can I still apply for OVC TTAC assistance?
Yes. OVC TTAC will contact your OVC grant monitor to determine if you are eligible for support. OVC may also contact your grant monitor if your funding was awarded by another federal agency addressing victims' issues.
Do I need to find a speaker or consultant or will OVC TTAC find speakers and consultants for me?
The OVC Consultant Network includes skilled subject matter experts and experienced trainers who are enrolled as consultants and deliver technical assistance requested by the field. Upon receipt of your application, an OVC TTAC TTA specialist will match your organization's needs with enrolled consultants who are qualified in your requested topic area/s. Some requesters identify specific consultants in their applications. Please be aware that if your organization requests a non-enrolled speaker/trainer, he/she will be expected to provide complete and timely information to the TTA specialist and will have to meet criteria applicable to all consultants with regard to assignment approvals.
Also, note that OVC makes all final decisions regarding Customized TA applications, including the consultants assigned to complete the technical assistance. Thus, OVC may select a consultant other than the one requested (enrolled or not) in the application.
Is there a limit on the number of consultants I can request?
Yes. Depending on the scope, complexity, and available resources, a maximum of two consultants per Customized TA application may be assigned.
Why are Customized TA applications due at least 90 days prior to the start date?
Customized TA applications are due at least 90 days prior to the start date to (1) ensure that OVC TTAC has enough time to process your request, (2) ensure that OVC has enough time to review the application and make a funding decision, and (3) complete the U.S. Department of Justice mandatory pre-approval. OVC TTAC must receive your complete and accurate application at least 90 days prior to your desired technical assistance date – NO EXCEPTIONS.

Note: To support victim service agencies and allied professionals during these challenging times, OVC TTAC is temporarily accepting applications submitted 60 days prior to your desired start date.
Please note: Start dates are subject to change based on the results of the needs assessment. Customized TA requesters must provide all required information and supporting documentation within allotted deadlines, or they may have their applications denied due to incompleteness.
To ensure that your application is complete and accurate, you are strongly encouraged to seek OVC TTAC assistance by calling 1–866–682–8822 prior to submission.
How will I know that OVC TTAC received my application?
Upon the receipt of your application, OVC TTAC sends a confirmation notice via email within 48 hours. If you did not provide an email address, OVC TTAC will fax the confirmation notice. If you do not receive a confirmation in the specified timeframe, please contact OVC TTAC immediately by calling 1–866–682–8822.
What happens after I submit my application?
OVC TTAC assigns your application to a TTA specialist for processing. The TTA specialist will contact you to conduct a needs assessment and will work with you to explore your needs and identify the qualified and available consultant/s to fulfill your request. The TTA specialist will compile all relevant and required information and documentation regarding your application and send it to OVC. OVC will review the application materials and make a funding decision. Once OVC makes a decision, your TTA specialist will contact you with the application outcome.
Does OVC TTAC make the decision regarding approval or denial and/or level of funding?
No. OVC and the U.S. Department of Justice make all final decisions regarding every aspect of a Customized TA application.
How long does it take for OVC and the U.S. Department of Justice (DOJ) to make a final decision regarding a Customized TA application?
In general, OVC and DOJ make a final decision within 4-5 weeks of OVC TTAC's submission of the final and complete application file for OVC and DOJ review. The file will reflect the needs assessment, intake process, and the confirmed technical assistance scope and content collected within the allotted deadlines from both the requesting organization and the recommended consultant/s.
If my application is approved, how are the consultant fees and travel expenses handled?
OVC TTAC will contract directly with the consultant to cover compensation and reimbursement of allowable expenses approved by OVC (e.g., consultant fees, airfare, M&IE) per OVC TTAC's program regulations and OVC/federal guidelines.
Note: OVC TTAC will not release any funds to the approved organization to cover the aforementioned costs.
If my application is approved, what are my organization's responsibilities to OVC TTAC?
Your organization will be responsible for:
Keeping your TTA specialist informed of any changes with your technical assistance (e.g., event date, workshop/training content, workshop time or duration, cancellation, postponement);
Working with the assigned consultant(s) to ensure successful implementation of the assistance;
Obtaining and sending to OVC TTAC a list of workshop/training/technical assistance attendees; and
Completing a feedback form and returning it to OVC TTAC within 2 weeks following the event.
Please note: Failure to notify OVC TTAC of any changes or use of any promotional materials in advance may void the OVC approval for part or all of the requested support. Once approved, you may create and disseminate promotional materials. Also, please note that OVC/OVC TTAC logos may not be used in any event promotional materials.
If an OVC consultant referred me to OVC TTAC for Customized TA, does that mean he or she will be assigned to provide the technical assistance?
No. While OVC takes into consideration specific consultant recommendations from the requester, it is ultimately OVC's decision who is assigned to provide the technical assistance. OVC assigns consultants based on a variety of factors, including, but not limited to, expertise and experience on the requested topic, familiarity and cultural competency with the region and/or population, and travel costs.
Are there restrictions I should know about when it comes to the use of trainers/speakers from the OVC Consultant Network?
Yes, consultant fees are based on an OVC-established rate structure for training, technical assistance, and other approved work assignments. These established fees may not be used to subsidize additional funding already anticipated or allocated for support of assigned consultants.
Note: This rate structure and related restrictions equally apply to non-enrolled trainers/speakers identified by an applying organization and approved for delivery of their requested technical assistance.
What is capacity building?
Capacity building refers to the process of identifying the internal and external barriers that inhibit victim services organizations, allied professionals, or individual providers from delivering effective services to all crime victims, and building on existing strengths, enhancing skills, and providing new tools to overcome those barriers. TTA specialists will conduct a thorough needs assessment to maximize the use of OVC's resources to build capacity.
Got Questions?
Phone: 1–866–OVC–TTAC
(1–866–682–8822)
TTY: 1–866–682–8880
Email: ttac@ovcttac.org
Activity Map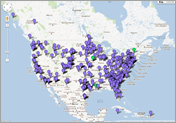 Want to know where the world is tapping into OVC's TTA resources? Use the activity map.