Vicarious Trauma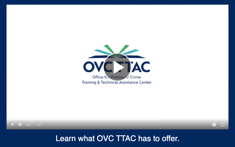 Learn more about the impact of vicarious trauma on individuals and on organizations, as well as resources designed to help you identify and address vicarious trauma proactively.
What is vicarious trauma?
Exposure to the traumatic experiences of other people is an inevitable occupational challenge for people working in the fields of victim services, emergency medical services, fire services, law enforcement, and other allied professions. There is a spectrum of responses to vicarious trauma that range from negative to positive.
Negative
Neutral
Positive
Vicarious
Traumatization
Individual Resilience
Vicarious
Transformation
Secondary
Traumatic Stress
Vicarious Resilience
Compassion Fatigue
Compassion
Satisfaction
Burnout
Who is impacted by vicarious trauma?
Anyone working or volunteering in a field with continuous exposure to victims of trauma and violence can be impacted by vicarious trauma.
Why is it important to address negative vicarious trauma?
Exposure to trauma manifests itself in many ways, from the psychological to the emotional to even the physical. Research shows that such negative responses to vicarious trauma, left unaddressed, lead to staff burnout, staff turnover, and stress, which, in turn, may affect the quality of services provided to crime victims.