OVC Vicarious Trauma Toolkit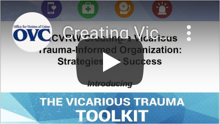 View the Transcript (PDF 99.9 KB)
View Presentation (PDF 435 MB)
The OVC Vicarious Trauma Toolkit (VTT) introduces a new model for examining and conceptualizing the effects of vicarious trauma along a spectrum of reactions to the work-related trauma exposure that victim service providers and first responders experience every day. The VTT focuses on organizational responses to work-related exposure to trauma. While some resources in the toolkit may be useful to individuals, the VTT is intended to provide organizations with the tools they need to fulfill their responsibility to support staff and become more vicarious trauma-informed.
The VTT is intended for victim service providers as well as allied professionals (e.g., law enforcement, emergency medical personnel, fire departments) who may also interact with people experiencing trauma.
You can access the OVC Vicarious Trauma Toolkit on the OVC website.
How To Use the Vicarious Trauma Toolkit
OVC has several resources to assist organizations in using the VTT effectively.
The Blueprint provides guidance on using the Vicarious Trauma-Organizational Readiness Guide (VT-ORG) to assess your organization's current capacity as a vicarious trauma-informed organization and offers suggestions on how to use the Compendium of Resources, including the New Tools for the Field, created specifically for the VTT. You can access the VTT Blueprint here.
Organizations can also view the short eLearnings in the table below for guidance on ways to implement components of the VTT.
Making the Pitch
Length: 10 minutes
Summary: In this video, you will learn how to develop a plan to obtain buy-in across the organization by delivering a pitch that uses data, as well as stories from the field and from inside your own organization, to motivate change, and uses the tools and resources in the Vicarious Trauma Toolkit to become a more vicarious trauma-informed organization.
Using the VT-Organizational Readiness Guide or VT-ORG
Length: 10 minutes
Summary: In this video, viewers will learn how to explain the importance of using the VT-ORG and sharing and communicating the assessment's significance to staff effectively.
Using the VT-ORG Scoresheet To Create Your Own Action Plan
Length: 2-4 minutes
Summary: This video guides viewers through the VT-ORG Action Plan, including the various components of the plan, and how to prioritize results for creating a more trauma-informed organization.
Compendium of Resources
Length: 2-4 minutes
Summary: This video demonstrates how to use the search and filter features of the Vicarious Trauma Toolkit Compendium of Resources, which can be used to supplement a developed VT-ORG Action Plan.