To support victim service agencies and allied professionals during these challenging times, OVC TTAC is temporarily accepting applications submitted 60 days prior to your desired start date.
Due to COVID-19, and per guidance from the Department of Justice and the Office for Victims of Crime, OVC TTAC is not supporting travel for in-person training and technical assistance events at this time. We will continue to process requests for virtual training and technical assistance.

Prior to applying for assistance, please call 1–866–682–8822 and ask to speak with an OVC TTAC Training and Technical Assistance (TTA) specialist.
Training
Prior to applying for training, please call 1–866–682–8822 and ask to speak with an OVC TTAC Training and Technical Assistance (TTA) specialist.
OVC, through OVC TTAC, provides an array of standardized, face to face trainings on topics relevant to victim service providers and allied professionals. Trainings range from 1 to 3 days. OVC offers these trainings to build skills in a particular topic for providers in a community, state, or region in order to build the capacity of participants to serve crime victims. Some topics are delivered through blended learning, a combination of virtual and face to face training. If you would like training on a topic that you do not see in the list of standardized trainings, please submit an application for assistance through the Customized Technical Assistance page.
For these trainings, OVC TTAC provides the following at no cost to you or the participants:
Two instructors
Onsite coordinator
Instructor training materials
Participant Manual for each participant.
OVC TTAC will identify the approved instructors for the requested training. Approved instructors are familiar with the curricula and, in many cases, helped to develop the materials. You will be responsible for covering any costs for the training facility and audiovisual and other equipment. All participants must attend in person.
You will need to submit all proposed written marketing materials (paper or electronic) to OVC TTAC for approval prior to disseminating. Marketing materials should include the OVC-approved training description and description of target audience. Keep in mind the required audience size when developing marketing materials. Please note that OVC/OVC TTAC logos may not be used in any event promotional materials.
What is capacity building?
Capacity building refers to the process of identifying the internal and external barriers that inhibit victim services organizations, allied professionals, or individual providers from delivering effective services to all crime victims, and building on existing strengths, enhancing skills, and providing new tools to overcome those barriers. TTA specialists will conduct a thorough needs assessment to maximize the use of OVC's resources to build capacity.
Let Others Know About This Training
Got Questions?
Phone: 1–866–OVC–TTAC
(1–866–682–8822)
TTY: 1–866–682–8880
Email: ttac@ovcttac.org
Activity Map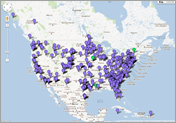 Want to know where the world is tapping into OVC's TTA resources? Use the activity map.