To support victim service agencies and allied professionals during these challenging times, OVC TTAC is temporarily accepting applications submitted 60 days prior to your desired start date.
Due to COVID-19, and per guidance from the Department of Justice and the Office for Victims of Crime, OVC TTAC is not supporting travel for in-person training and technical assistance events at this time. We will continue to process requests for virtual training and technical assistance.

Prior to applying for assistance, please call 1–866–682–8822 and ask to speak with an OVC TTAC Training and Technical Assistance (TTA) specialist.
Apply for Training
Organizations may request any training listed on the Descriptions tab – to be held no sooner than 90 days (3 months) from the date of your request – NO EXCEPTIONS. If your training is not listed on the Descriptions tab, please submit your request through the Customized Technical Assistance page.
Apply Online
To apply for training, please complete the Online Application Form.
Upload a Signed Cover Letter
A signed cover letter from your organization's executive director or other senior staff should be submitted along with your application. This letter must be printed on your organization's letterhead; must feature a manual (not electronic) signature; and should inform OVC of—
The event essentials (who/what/where/when).
Your organizational and/or community needs specific to the requested support.
The benefits you expect out of this technical assistance, if it is approved.
To complete your existing application, please login to access your application.
Apply by Mail, Fax, or Email
Note: If you submit your training application by mail (USPS), fax, or email, OVC TTAC must receive it no later than 90 days prior to your desired start date.
To apply by mail, download and complete the application form below:
Training Application (MS Word 177 KB)
Send your completed application form and cover letter to OVC TTAC at the address, fax, or email listed below.
Mail:

OVC TTAC


Attn: Training
9300 Lee Highway
Fairfax, VA 22031–6050
Fax: 703–225–2338
Email: TTAC@ovcttac.org
What is capacity building?
Capacity building refers to the process of identifying the internal and external barriers that inhibit victim services organizations, allied professionals, or individual providers from delivering effective services to all crime victims, and building on existing strengths, enhancing skills, and providing new tools to overcome those barriers. TTA specialists will conduct a thorough needs assessment to maximize the use of OVC's resources to build capacity.
Let Others Know About This Training
Got Questions?
Phone: 1–866–OVC–TTAC
(1–866–682–8822)
TTY: 1–866–682–8880
Email: ttac@ovcttac.org
Activity Map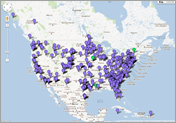 Want to know where the world is tapping into OVC's TTA resources? Use the activity map.