Victim Assistance Training
Online
VAT Online is a foundational Web-based victim assistance training program that offers victim service providers and allied professionals the opportunity to acquire the essential skills and knowledge they need to more effectively assist victims of crime. VAT Online has four sections: Basics, Core Competencies and Skills, Crimes, and Specific Considerations for Providing Victim Services.
The VAT Online training is part of the NACP pre-approved training list. This training meets the requirements for the Introductory Advocacy Training area that can be used to apply for the National Advocate Credentialing Program (NACP). View a complete list of all of the VAT Online modules and their lengths. To meet the minimum requirements for the NACP Provisional Level, completion of 40 hours from the VAT Online training is required. NACP requires a transcript that indicates that 40 hours of training has been completed. Click here to access your transcript.
Looking for help?
Contact us with questions or if you experience technical difficulties:
E-mail: VATOnline@ovcttac.org
Phone: 1–866–682–8822
Let Others Know About This Training
Activity Map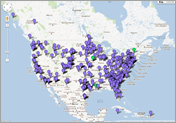 Want to know where the world is tapping into OVC's TTA resources? Use the activity map.