Online Elder Abuse Training for Legal Service Providers
This interactive Web-based training program for legal aid and civil attorneys has four modules that offer a variety of information, tools, and resources to identify and respond to elder abuse, including Domestic Violence and Sexual Assault, Financial Fraud and Exploitation, Practical and Ethical Strategies, and What Lawyers Need to Know.
Looking for help?
Contact us with questions or if you experience technical difficulties:
Email: TTAC@ovcttac.org
Phone: 1–866–682–8822
Activity Map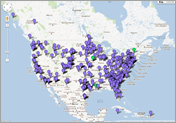 Want to know where the world is tapping into OVC's TTA resources? Use the activity map.