Strategic Planning Toolkit
OVC TTAC develops products that enhance your organization's ability to serve victims of crime.
Strategic Planning Toolkit
The Strategic Planning Toolkit is intended to function as a guide for you to use throughout the strategic planning process. The Toolkit offers guidelines you can follow and tools and resources for you to draw on at every step. The Toolkit is organized to help you both learn about the planning process and use the process. It is broken into six sections that correspond to the six steps in strategic planning. The Toolkit can benefit any victim services organization - at the state or local level - that wants to assess where it wants to go in the future.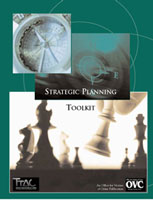 Use the links below to download the various sections of the Toolkit, all in printable PDF format:
The following tools are for those organizations that are somewhat familiar with planning or just want to engage in a certain part of planning. Users can take the assessment, and, based on the answers, the scoring sheet will point out which sections of the toolkit they need to focus on.