Criminal Justice Professionals

Have you found yourself asking any of these questions lately?
How do I effectively approach victims so they will talk to me?
How do I succeed in getting my prosecutor to take on this case?
How do I know what to investigate if victims aren't coming forward?
Investigating cases of human trafficking can be a complicated and challenging task. Victims are afraid to talk, making cases hard to prosecute. What if you could investigate cases proactively leading to effective prosecutions?
Did you know that OVC TTAC offers free training and technical assistance to agencies working on human trafficking?
Talk to a Technical Assistance Specialist today about the challenges facing your agency.
Email humantrafficking@ovcttac.org or call 1–866–OVC–TTAC (1–866–682–8822).
Did You Know?
Prosecutors and law enforcement can experience challenges in successfully bringing human trafficking cases to closure. Working closely with local and federal law enforcement partners and victim service providers will play a role in overcoming challenges, making it more likely that perpetrators are brought to justice. Learn more »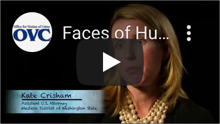 Download the Video
View the Transcript
Proactive investigations that use a variety of evidence rather than relying solely on victim testimony are more likely to end with successful prosecutions. Visit Faces of Human Trafficking to download related materials.