Victim Service Providers and Allied Professionals

Have you found yourself asking any of these questions lately?
How do I collaborate with survivors to ensure our program is truly trauma informed and survivor centered?
How do I engage law enforcement in my community so they take me seriously?
How do we support survivors with needs we don't know how to meet?
Working with survivors of human trafficking can be complicated and challenging. Survivors often have urgent needs that must be met. What if you could meet the needs of those you serve more effectively?
Did you know that OVC TTAC offers free training and technical assistance to organizations working on human trafficking?
Talk to a Technical Assistance Specialist today about the challenges facing your organization.
Email humantrafficking@ovcttac.org or call 1-866-OVC-TTAC (1-866-682-8822).
Did You Know?
Creating conditions of trust and respect will help victims reclaim their lives and move toward self-sufficiency and independence. All victims deserve to feel safe and supported. Service providers convey pertinent information to victims so that they can make informed choices about services they wish to obtain, working with law enforcement, legal and immigration remedies, and other options. Victim-centered approaches focus on empowerment and choice rather than coercion and dependency. Learn more »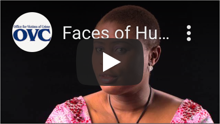 Download the Video
View the Transcript
Victim-centered, trauma-informed services are central to meeting the wide array of needs experienced by trafficking victims. Coordination and collaboration are critical in responding to this diverse population as no one provider can meet all of the needs of all types of trafficking victims. Visit Faces of Human Trafficking to download related materials.