Task Forces

Have you found yourself asking any of these questions lately?
How can our task force reach survivors who don't ask for help?
How do we get resources to support our task force operations?
How can collaboration help us prosecute more cases?
Collaborating on human trafficking cases can be a complicated and challenging task. Service providers, law enforcement and prosecutors have different priorities and various ways of operating. Does your task force proactively investigate and refer victims for trauma informed care? What if someone could share best practices with your task force for serving victims, investigating cases, and effectively prosecuting traffickers?
Did you know that OVC TTAC offers free training and technical assistance to task forces working on human trafficking?
Talk to a Technical Assistance Specialist today about the challenges facing your organization.
Email humantrafficking@ovcttac.org or call 1–866–OVC–TTAC (1–866–682–8822).
Did You Know?
The operations of a human trafficking task force demand effective leadership and a unified commitment to the mission and the team. The formation of such a task force is a pursuit of justice, justice for the victim through an attempt at restoration of freedom and well-being, and justice for society through the successful prosecution of perpetrators. Learn more »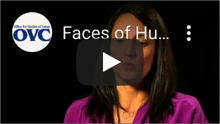 Download the Video
View the Transcript
Task forces and other multidisciplinary initiatives demonstrate how collaboration is needed to serve victims of trafficking effectively, bring traffickers to justice, and build a community's capacity. Visit Faces of Human Trafficking to download related materials.