Fall 2019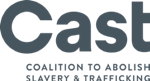 The Coalition to Abolish Slavery & Trafficking Comprehensive Legal Training and Technical Assistance Project
OVC Training and Technical Assistance Human Trafficking Grantee, 2015 and 2018
Highlights
The Coalition to Abolish Slavery & Trafficking (CAST) is a Los Angeles, California-based, nonprofit human rights organization working to end modern slavery and human trafficking through comprehensive, life- saving services to survivors and creating a platform to advocate for groundbreaking policies and legislation. Over the past two decades, CAST has supported thousands of survivors through every phase of their journey to freedom—from counseling, to legal resources, to housing, and educational and leadership training and mentorship. Through these programs, CAST has helped to empower survivors to become leading voices in shaping policy and public awareness, ultimately to put an end to human trafficking. CAST's program areas include Emergency Response, Intensive Case Management, Shelter, Legal Services, Survivor Empowerment Outreach and Training, and Policy and Advocacy.
CAST was re-awarded a Training and Technical Assistance (TTA) grant by the Office for Victims of Crime (OVC) to build the capacity of legal and social service providers to deliver services to human trafficking survivors. The goal of the Comprehensive Training and Technical Assistance (CTTA) project is to increase human trafficking victims' access to the full spectrum of legal remedies available to them to increase their safety, financial well-being, independence, and self-sufficiency through access to trained specialized legal service providers.
The objectives of the project are to (1) improve the quality and quantity of legal services TTA available for legal service providers and pro bono attorneys across the United States; and (2) improve social service providers' capacity to identify legal service needs of human trafficking victims, provide reliable referrals, and work effectively with legal service providers.
Services
CAST provides robust training and technical assistance (TA) to legal and social service provider advocates across the Nation. With the help of OVC grant funding, CAST is able to continue to train both legal and social service providers on the legal framework of human trafficking, and it is available both in-person and online through CAST's eLearning courses. These trainings are held for service providers throughout the United States who assist victims of trafficking to come and learn about the best practices in identifying trafficking survivors and understanding the legal remedies available to trafficking survivors, as well as how to create effective referral systems. CAST is also able to provide comprehensive TA on multiple platforms, including individualized TA, live TA calls to both legal and social service providers, and upcoming webinar and innovative training sessions that will meet the changing needs of the anti- trafficking field.
Good To Know
The CAST CTTA team excels at delivering effective TTA in multiple formats to service providers across the Nation. One of the strongest aspects of the CAST CTTA team is the experienced attorneys dedicated solely to providing TTA, which allows CAST to provide case reviews in addition to meeting the ever- changing needs of service providers. CAST has trained 400 attorneys in California, Oregon, Nebraska, Texas, Missouri, and North Dakota through the comprehensive legal remedies for human trafficking survivors training in which attorneys learn practical skills on identifying trafficking survivors, ethical considerations, immigration remedies, crime victims' rights, civil relief, and more. CAST also trained more than 350 social service providers in best practices for working in multidisciplinary teams to understand the human trafficking legal framework, including learning about privilege and confidentiality, intake best practices, and legal remedies available to trafficking survivors.
Currently, CAST is seeing an increasing number of requests for individualized TA from both legal and social service providers. CAST provides in-depth TA to help service providers problem-solve individual barriers in their cases. The topics covered most often in TA requests are immigration remedies and victim-witness advocacy for human trafficking survivors. From its experience as a TTA provider, one trend CAST identified is the need for more victims' rights advocacy, whether it be through direct representation of victims' rights by attorneys or other services. Another trend that is reinforced is the need for both legal and social service providers to continue to review internal protocols and policies to ensure that the client's confidentiality and all applicable privileges are being protected.
Resources
Please be sure to visit CAST's TTA website to register for listservs, find out about eLearning courses and webinars, and discover up-to-date blog posts on the most recent trends in the anti-trafficking movement.

Freedom Network Training Institute Housing Training and Technical Assistance Project
OVC Training and Technical Assistance Grantee, 2017
Highlights
Freedom Network USA is the Nation's largest coalition working to ensure that trafficked persons have access to justice, safety, and opportunity. The Freedom Network Training Institute (FNTI) is the training and technical assistance arm of Freedom Network USA and is a training resource for professionals in the anti-trafficking field. FNTI provides professionals with dynamic and up-to-date training and resources on housing options for survivors of human trafficking through the FNTI Housing Training and Technical Assistance Project (FNTI Housing TTA Project).
Services
Access to safe and affordable long-term housing is critical for survivors of human trafficking as they seek supportive services, justice, and, ultimately, healing. Affordable housing programs, including transitional and long-term, often have long waitlists and may restrict eligibility based on immigration status, criminal history, rental history, or current income. The housing landscape is complex and can be difficult to navigate.
The FNTI Housing TTA Project provides training, tools, and resources that offer information and guidance for professionals in accessing appropriate emergency, transitional, and long-term housing options for survivors. The trainings offered are web-based and in-person through bimonthly webinars and presentations at conferences. Technical assistance (TA) is provided through TA calls and individual TA for OVC grantees. Resources are in the form of fact sheets, case studies, promising practices, and tools created through the project.
Good To Know
The FNTI Housing TTA Project includes a wide array of expert consultants, including a Survivor Advisory Panel, that support and inform the creation of the resources and the delivery of trainings. All training and TA is based on a client-centered and trauma-informed approach. The FNTI Housing TTA Project strongly believes in, and advocates for, organizations to adopt a rights-based approach to housing (PDF, 55 KB). The model relies on voluntary, nonjudgmental assistance with an emphasis on self-determination to best meet survivors' short- and long-term needs.
Resources
The Housing Project page on the Freedom Network USA website includes information about the project, registration information for future webinars, recordings of previous webinars, newly published fact sheets, and an inquiry form, which can be used to contact them about the project and request TA.
The Resource Library is a resource hub available for professionals in the human trafficking field, or those seeking to serve human trafficking survivors. The Resource Library houses fact sheets, promising practices, practical tools, and training materials developed by subject matter experts with direct experience working with survivors.

Futures Without Violence Promoting Employment Opportunities for Survivors of Trafficking Project
OVC Training and Technical Assistance Grantee, 2017
Highlights
For more than 30 years, Futures Without Violence (FUTURES) has been providing groundbreaking programs, policies, and campaigns that empower individuals and organizations working to end violence against women and children around the world. Economic security and independence are key factors in survivor resilience, yet access to good jobs is often one of the top barriers to survivor safety and recovery. In response, the Promoting Employment Opportunities for Survivors of Trafficking (PEOST), in cooperation with the Office for Victims of Crime (OVC), aims to increase access to quality educational and employment opportunities for survivors of human trafficking. Through targeted technical assistance and training institutes, the PEOST project promotes the development of partnerships between victim service providers, local workforce development programs, and educational institutions to create trauma-informed, supportive pathways to education, training, and job opportunities.
Services
PEOST offers targeted training and technical assistance to organizations supporting survivors of human trafficking. Services include, but are not limited to—
Mapping local workforce development opportunities, including identifying and screening potential education programs, job training programs, pre-apprenticeship and apprenticeship programs, and employers.
Building effective cross-sector partnerships between victim service providers and workforce development programs.
Developing training curricula on trauma-informed employment support.
Advising on economic empowerment program design utilizing promising practices.
Facilitating peer training opportunities among programs building education and employment opportunities for survivors.
Phone, web-based, and in-person technical assistance as requested.
Good To Know
The PEOST project actively works to develop tools and resources to help victim service providers that strengthen economic empowerment programs offered to survivors in order to promote greater access to quality employment opportunities. To learn more about these resources, please view their website.
Other OVC Grant-Funded Training and Technical Assistance Projects
Other OVC grant-funded Training and Technical Assistance projects include:
RTI International – Children and Youth Technical Assistance Program